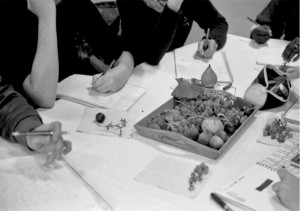 Workshops offer everyone to discover (or rediscover) how to resort to writing, on every form, style, as a way to explore and express his creativity. Discover or rediscover oneself's writing source, develop self-rule to express it. The spontaneous writing can be tackled as much as a more significant project.
Feelings, imagination, personal experience, humour, poetry, story, and meetings with other arts (painting, carving, plastic arts, art of cooking…) are so many inspiration sources, "writing causes", that will be explored during workshops.
The approach suggested is individual, but also collective: it involves a personal participative approach, with an organization in groups from five to eight people maximum.
Each session is made of "situation writing" (writing during the session), themes for writing can come from participants as well as the context or the progress of the session. It is possible to share individual productions made during the session or at home. It is an opportunity to explore various forms of writing expression, to give and receive, in a spirit of exchange, without any judgement. A writing subject is proposed at the end of each session, in order to enable personal creation, for the next session.
This workshop is accessible for every adult people (under 18 with parental agreement) whatever his actual relationship with writing.
Sessions take place at the association's headquarter, or other places mentioned in advance depending on the workshop.
Association VOIX DE PLUMES
Tel : 06 20 51 44 10 voixdeplumes@orange.fr
Association loi 1901 J.O n°24 16/06/07 – INSEE N° SIRET : 501 746 143 00012